Kevin Staigh – Owner and Certified Master Electrician
When I was growing up, my dad would say "Kevin, I can teach you everything I know about being a mechanic – but why don't you find something else to do with your life!"  Thanks to my dad's advice, I did.  I am a Certified Master Electrician with over 20 years of experience and have had a diverse and rewarding career in this industry.  Prior to starting Halo Power Solutions, I gained a tremendous amount of knowledge, experience and leadership skills working with great companies across Alberta.  In 2015 I started Halo Power Solutions Inc. My vision was to create a company that delivers what other contractors don't – an amazing, memorable experience for every customer, every time.  Our company culture revolves around this vision and our team embraces this vision.  Our commitment to customer experience truly sets Halo Power Solutions apart from our competitors.
Although I passed up becoming a mechanic, I'm still car crazy!  I have a passion for fast cars both old and new.  I also love music and strumming my guitar.  I am a self-proclaimed "Master Chef" and believe I can cook almost anything on my Louisiana Grill wood pellet smoker.  Nothing however is more important to me than my wonderful wife and my two daughters.  I cherish every moment with them, and I couldn't be where I am today without their support.
Mike
Residential Service Manager
We were fortunate to scoop up Mike to run our residential service department.  Mike manages our residential projects and service calls and leads his team of all-star residential electricians. He's a Journeyman Electrician with a background in electrical sales and an all-around great guy!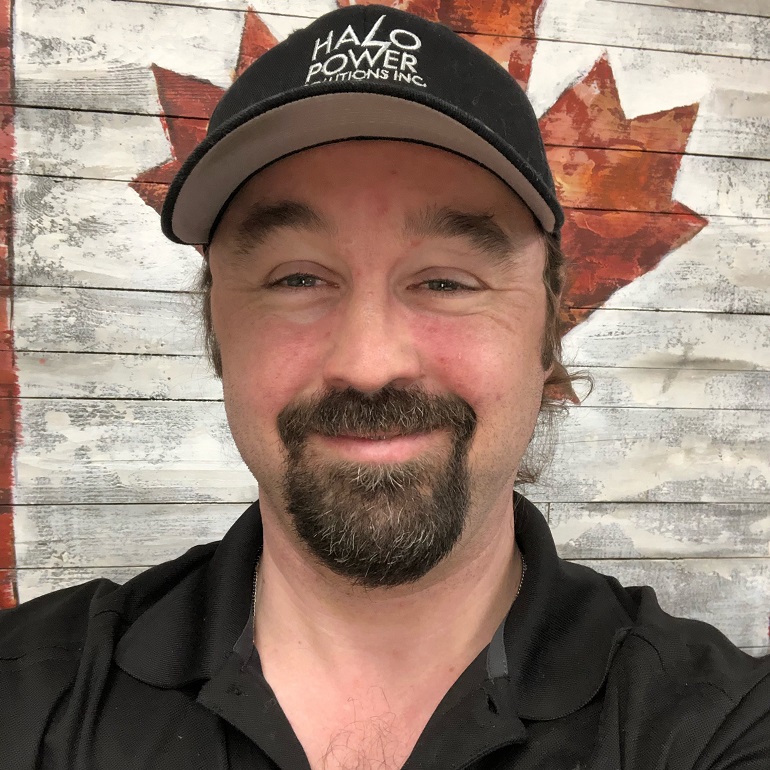 Toby
Warehouse Manager
We've dubbed Toby our Chaos Controller.  He manages our warehouse and works his magic behind the scenes to ensure our electricians have the right materials, equipment and tools to complete our projects efficiently and keep our clients happy.  Don't know what we would do without you Toby!
And yes ladies, he is single!
Parker
Journeyman Electrician
residential and commercial services
Parker is the first Journeyman Electrician we hired back when Halo Power was in its early years of growth.  He brings a wealth of talent and experience and has built a great reputation with our long standing clients.  He's also really tall which is handy because he can get a lot done without needing a ladder!
Brennan
Journeyman Electrician
special projects
Brennan has been with us for 3 years and is usually leading his crew on very specific projects for our long standing clients.  We appreciate how Brennan "grabs the bull by the horns" especially on those fast paced high pressure jobs we tend to get involved with.  He takes on the work that many electricians would run away from.
Stuart
Journeyman Electrician
residential services
Stuart has put more smiles on the faces of our residential clients than we could ever count.  His commitment to customer service and top quality electrical work is second to none and the wonderful feedback we get from our clients is fantastic – just read our Google Reviews and you will see what we mean!
Adam
Master Electrician
residential  and commercial services
Adam just received his Master Electrician certification and is the most versatile electrician we have on the team. He brings a wealth of experience from running large commercial projects and we are fortunate to have him as we grow our commercial department.
Tyler
Apprentice Electrician
Tyler started his apprenticeship with us and just completed his 2nd year training at NAIT.  Tyler has a work ethic that is tough to find these days and has already proven himself a well rounded electrician who is great with our customers.  Our journeyman electricians love working with Tyler and we love having him on the team!
Jordan
Apprentice Electrician
We brought Jordan on as a high school student through the RAP program and hired him full time after he graduated.  He's proven himself as a hard worker, fast learner and great with our customers. This kid has a lot going for him – he is now a second year apprentice and also an on-call fireman with Parkland County. We are proud of you Jordan, keep it up!
We are Sherwood Park and Edmonton's most trusted electricians because of our amazing team of people.
"It's one thing to have a team, it's a whole other thing to have teamwork."
We are proud to have an electrical and management team that works well together, succeeds together and produces great results. Our all-star Halo Power team are friends, colleagues, some of us even family. Every member of our Halo Power team plays a key role in the success of our electrical contracting company. 
Why is teamwork so important?
We are Sherwood Park and Edmonton's top-rated electricians because of our team. We encourage feedback and new ideas from our residential electricians, master electrician, service manager and inventory manager.  Empowering our people brings new ideas. Electrical contracting companies need new, fresh ideas to succeed in this competitive industry. Our residential electricians have a unique perspective to bring to the table which will benefit our electrical contracting business overall. Businesses thrive when they have a diverse team of people who can contribute individual ideas.
We know that teamwork helps solve problems. Collaboration within our group of electricians and managers help solve difficult problems that we run into daily in the electrical contracting industry. Brainstorming is a fantastic opportunity for our team of electricians to exchange ideas and come up with creative ways to get the job one safely and efficiently. By working together, out team of electricians always find the solutions that work best to complete our residential electrical projects.
We realize that great teamwork creates a system to ensure high quality residential electrical service while meeting our deadlines. Our electricians know that when one team member falls behind, there is another to support them. Our team of electricians have developed a sense of comradery while always working toward a common goal of providing the best service and customer experience to our Sherwood Park and Edmonton area clients.
Teamwork builds morale among our electricians. We feel that work is valued when everyone contributes to something that produces great results. Our team of residential electricians know that when they contribute a new idea that helps improve our work, confidence and trust is built within the team. Each Halo Power team member has something special to offer, and by working together, our team members feel a strong sense of belonging and deep commitment to each other while working together towards one common goal of being the best electricians in Sherwood Park and the greater Edmonton area.
We thank all of our Sherwood Park and Edmonton area client for choosing our winning team of residential service electricians for all of there electrical needs.
Your trusted Residential Electricians proudly servicing Sherwood Park,
Fort Saskatchewan and Edmonton.
Bringing Value. Building Trust.
Halo Power Solutions
Get In Touch